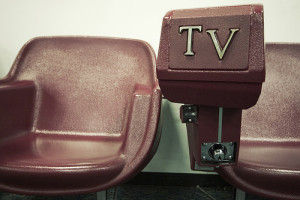 With one of the biggest real-time TV events of the year looming, I've been interested in how people might experience The Big Game without actually watching it on TV, in real time. For anything short of synchronous TV events, the options are multiplying.
This isn't just a case of media companies eating their young in a panicked rush to be first into the technological deep end. Rather, it reflects the reality of assuring that you have an audience in the years to come.
This chart caught my eye: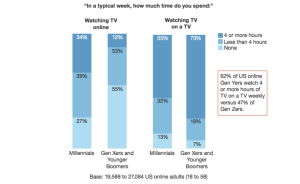 Source: http://digiday.com/platforms/splintering-tv-consumption-landscape-5-charts/
The differences between the millennials and their elders (like me) are stark. The data reflect what I see every day with college undergraduates: They are watching tons of TV, but not on that box in the living room.
Many of my students are cord-cutters, although that term doesn't really apply: they never had cords to cut. As with music, information, and software, they don't see the sense in paying for something they can get for free, via persistent digital connection.
In some grand karmic return orbit, present and future TV viewers now believe that video entertainment should be free, like the air. Hmmm…wasn't that how it all began, before the Comcasting of America?
Some have found cordless nirvana in digital broadcasting. I was pleasantly surprised at how many channels were available with the cheapest antenna I could find. But not everyone lives within the coverage contour of terrestrial stations.
As for the game, NBC has announced it plans to stream most of the day's programming online from noon until after the follow-on episode of "Blacklist." That's a serious commitment to audiences that are not, directly, enriching any NBC affiliates. But it's where content needs to be, if it wants to be relevant to audiences in the future.